How to Get the Most Out of Your Stainless Steel Water Bottle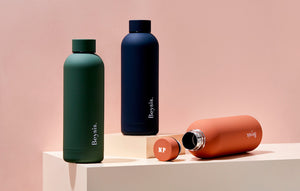 It is proven that stainless steel is a safe and healthy material for storing your favourite beverages. We all want to make the most out of our multi-functional water bottles that are designed to keep liquids cold for 24 hours and warm for up to 12 hours. Getting your water bottle to a good starting temperature will give it the extra edge when taking drinks on the go.
Treating your drink bottle with care and respect
will inevitably keep it lasting stronger for longer.
Get the best out of your stainless steel water bottle
Care is paramount in maintaining the integrity of your stainless steel water bottle. We recommend storing the water bottle upright for the best effect. A properly stored bottle will maintain your favourite beverage's temperature all day long even during the sweltering summer heat as the outer coating on your beverage's stainless steel exterior will not affect the temperature. The best thing about stainless steel water bottles is the fact that they are easily hand washable and safe to drink from if you drop them accidentally. To find out more about the benefits of stainless click here. You don't have to be afraid of bacteria or contamination because this material is anti-microbial and does not pose a threat to your body. The bottle still needs to be cleaned often, to ensure you wash the bottle correctly follow the best steps here. 

Setting your bottle to an ideal starting temperature

Placing your water bottle on a cool counter or table is always recommended if you are planning on getting it as cold as possible. Doing this is imperative if you want your drink bottle to last longer. Another sure-fire way to get your
Beysis drink bottle
to the ideal drinking temperature is to store it upside down in the fridge or freezer. Making your water bottle warm It's not unheard of for your water bottle to get too warm, and this may cause the water to boil and evaporate prematurely. To avoid this, keeping your water bottle on the hottest part of your kitchen counter or table will do the trick.
Maximising the use of your water bottle

The more liquids that you put into your bottle the more the water will stay cool. To maximise the use of your
stainless steel water bottle
, always filling it to the top with your liquids, trapping the warm or cool air inside causes the contents to maintain its desired temperature. Keeping liquids at the right temperature is an effective way of prolonging the use of your
stainless steel water bottle
. 
Keeping your stainless steel bottle safe

Stainless steel is a durable material that is completely non-porous. It is very resistant to humidity and damage, which is why it is considered to be one of the most durable materials available. However, you should not store your stainless steel water bottle inside a plastic bag or another material that will trap the moisture. This will result in the products losing their longevity. It is important that you take extra precautions to protect your water bottle from moisture damage. To get the best out of your stainless steel water bottle, make sure that you store it in a cool place. You can take your
stainless steel bottle
out for a quick refreshment, or save it for the cooler months so that you can avoid it drying out in hot and humid conditions.