How To Clean and Maintain Your Stainless Steel Water Bottle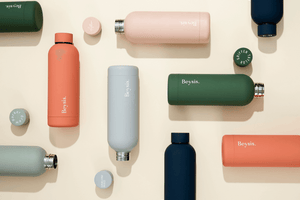 When it comes to cleaning drink bottles, a lot of us usually engage in a quick rinse and refill (we're not judging). Washing the inside of your stainless steel bottle properly will ensure the longevity of the product as well as keeping your liquids tasting fresh. Using hot, soapy water or for a deep clean use vinegar and water to rinse the inside of drink bottles are rituals which health experts recommend. Making sure all bases are covered, soaking and scrubbing the residue off drink bottle caps is also important to ensure the health and safety of using stainless steel reusable bottles on a daily basis.


The Importance of Cleaning your Stainless Steel Bottle often
Generally speaking, wear and tear is inevitable. Depending on how the water bottle is being used, they will all last some time, especially when they are being cleaned often. If your water bottle is getting a lot of love in a week, it must be cleaned. This is important as bacteria and other micro-organisms which can grow in and on the stainless steel can also transfer from one surface to another. Moreover, this can affect the durability of the water bottle.
How To Clean Your Stainless Steel Bottle properly
Taking time out to thoroughly clean and inspect your drink bottle will keep it in good condition and prolong its life. Be sure to hand wash as the dishwasher is not safe for our stainless steel water bottles. Some parts of the bottle are easier to clean than others, such as the external surface of a bottle. For the outside of your entire bottle, try using a microfibre cloth, rubbing it on a soapy water solution, then rubbing on the bottle to get it looking super clean. To clean the inside of the bottle, hot soapy water is preferred and give it a little scrub to get it back to brand new. Be sure to inspect the part where the cap attaches, this is where a lot of the wear and tear is on the bottle. 
Drying and Storing your Bottle
Knowing how to dry out your water bottle after cleaning or when storing it is key in ensuring your water bottle lives its longest life. A clear idea of how and how often you should dry your stainless steel drink bottle to maximise the quality of your usage will help you sleep well at night (we all need that beauty sleep). A quick and easy method is to line your bottle with a towel or dish towel to dry it, keep the lid separate. Use this simple technique after cleaning your bottle or when you're about to store it away for approximately 30 minutes. Drying the bottle without pressure will protect the surface of the bottles. Knowing the drying, storage and usage procedures for our stainless steel drink bottle will help you go through the daily cleaning of your stainless steel water bottle easily.