Unique Thank You Gifts for Teachers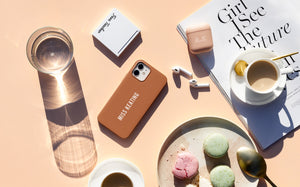 How do you thank teachers for all they do? They put up with our kids, have all the patience in the world and they're helpful day after day. Whether it's World Teacher's Day (27th October), your teacher's birthday, end of term, end of year or a Christmas gift. It's easy to default to cheap choccies and flowers. It is the thought that counts, but if that's everyone's back up - that's a mighty big stash of chocolate and flowers! Why not put a little extra thought into it? If you do opt for a small bouquet the femme ceramic vase adds an extra touch that they can keep.

What teacher doesn't need stationary?
A nice notebook, pens, whiteboard markers, teachers run through these at an alarming rate. Ask them what they need in class or what they've run out of. A clear pencil case with added personalization does wonders for organization. It's sold as a make up bag, but would also be great for stationary and travel too. As it's transparent they won't be digging through their bags to find things anymore. You can add your teacher's name or initials for something truly unique to them.

The perfect desk accessory - personalized hydration
We haven't met a teacher that doesn't like to stay caffeinated throughout the day. A customized coffee tumbler is a handy and stylish alternative to reusable coffee cups. It keeps liquids hot for 12 hours and cold for 24 hours so it's perfect for commutes and keeps top ups in class at the perfect temperature. Not just for coffee aficionados - pop any hot or cold beverage in - from iced tea, chai and matcha lattes to lunchtime soups.
If water is more their thing a beautiful personalized water bottle would be perfect - there's 500ml or 1 liter - to last even the longest class. You can add their name or monogram - unlike their favorite mug nobody will dare claim this in the staff room!

Something small, but nice
Even a small, but practical gift can convey your appreciation and gratitude. Get your child to write a sweet thank you note or drawing, but why not pair this with a thoughtful gift as well? A personalizable nail polish in their favorite shade - from neutral to brighter colors. Add your thank you message on the front to make it stand out. It's vegan and cruelty free too.

For those perfume lovers a customizable and refillable perfume atomizer means they can carry their signature scent wherever they are for touch ups. A compact mirror in blush or white is a great handbag addition, add their name for something special and usable.
Group present

Pool your class resources to get more bang for your collective buck! Organize a big card that all the kids can write in. If you want to go the extra mile get everyone in class to contribute and add a voucher for their favorite store or restaurant, you can even give the gift or personalization with a
Beysis eGift card
. That way they can pick exactly what they like and customize it their way!