The Beysis Reusable Coffee Cup Is Here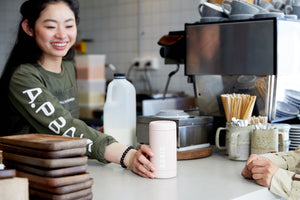 Have you had your morning coffee or two? Even just the smell of coffee is enough to wake us up in the morning. Aussies are amongst the top coffee drinkers in the world - and we know what we're talking about. Whether your daily brew comes from your local barista, home machine or instant - we've got just the thing for you. Polly put the kettle on, because we're celebrating!

The Design
We'd never sacrifice function for style. We've kept the design minimal, but don't be fooled, we've perfected the small details that set our coffee cup apart. The high quality double-walled stainless steel keeps your coffee hot for 12 hours and your ice tea cold for 24. It also ensures there's none of that off-putting tin-like taste in your drinks. The ergonomically designed lip completes the experience.

To keep things simple we designed a screw top lid with a leakproof silicone seal. It's robust enough to withstand knocks and throws into your bag. No drips or messes here! The cup size should fit most car-cup holders (yes we've thought of everything!). There's none of those fiddly, unreliable and hard to clean spring loaded openings or flip top lids. This makes it much easier to clean and maintain for life.
Make It Yours
Make your customized cup unique with our free personalization. Add your name to the side of your cup, so your barista can't get it wrong ever again!

Pick from 7 colors, be it pastel or classic and add your custom text to the tumbler. Whether it's your name, nickname or a cheeky joke - it makes the perfect gift for friends, family and colleagues too. Getting creative with your custom coffee mug will result in something you won't want to part with - good thing because it's built to last! You can even personalize a matching water bottle to complete your set.
A Better Design For A Better Planet
Every year over 600 billion disposable cups are used and end up in landfill around the world. We'd rather not add to that number. Our coffee tumblers are designed in Australia and made ethically. They're durable and made to stand the test of time with strong materials like stainless steel. You'll save countless disposable coffee cups from landfill and look chic doing it.

While you're at it, complete your eco-conscious set with one of our matching reusable water bottles (available in 500mL or 1 Liter), for the ultimate beverage twin team. If you're using it for ice tea you might want to add some of our glass straws - a great alternative to the single-use plastic kind and the perfect addition to your eco-friendly swag.


We're proud of our sleek, reusable coffee cup! It's sturdy, sustainable and stunning. Equally functional, and well-designed to elevate your morning brew. BUT if coffee's not your thing - don't fret! Your cup will work just as well filled with a milky matcha, chai, tea or even some leftover soup for lunch. Fill your tumbler with whatever you love.