How to Make the Perfect Personalized Gift in 5 Minutes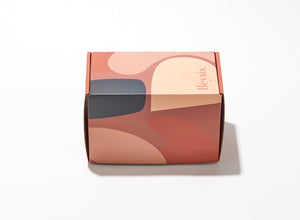 Let's be honest – giving the perfect gift is an art. And when you're the queen (or king) of gift-giving, your friends and family expect the best. Thankfully, you found us.
As we're also queen gifters, we're sharing our step-by-step guide on how to nail a personalized gift every time.

Step 1 - Pick your product
We've got everyone covered, from men who are impossible-to-buy-for to besties you just want to wow.
Our tip? Go with what you know about them:
● Are they a guy? (starting with the most challenging): Go for a
water bottle or Phone case.
● Are they a little stressed out? Calm them down with a scented candle.
● Do they work out? Personalize a 1L water bottle or AirPod case!
● Fashionista? She'll need to match her nails to her outfits, so go with a
personalized nail polish.
● A music junkie? AirPods case it is.
● Makeup enthusiast? A compact mirror or makeup case.
● A traveller? Check out the makeup travel case, perfume atomizer, or an
AirPods case….
● Is it your mom? One of everything. She deserves it.














Step 2 – Add a pop of color
You know them, and we've got all the colors you'll need. Pick a personal hue that reflects who they are or what they wear.
Not sure? You can never go wrong with the basics. Gunmetal, navy, and black are our go-to's that are always sure to be a hit.




Step 3 – Get personal

Do you have a personal joke, a meaningful message, or a cute comment to say? Add it in.
Don't stress if you're only witty in your head – everyone just wants to see their name in flashing lights. You can add their name, nickname, or initials. Phew, simple!






Step 4 – Did someone say
flair?
Get ready to shine, this is your time.
Mix up your fonts, sizes and orientation and make their gift perfectly unique. Our tips:
● For classic, modern & clean, you'll want Bold, Italics or Sans Serif.
● For something fun, College or Outline would be our choice.
● For the heartfelt, personal touch; Handwriting & Bold Cursive will feel like you wrote it yourself!
If it wasn't personal enough, you can add a handwritten gift note at checkout.
Can we just say, you nailed it 👑