AirPods Wireless Headphones Review: Which Is The Best AirPods Edition For You?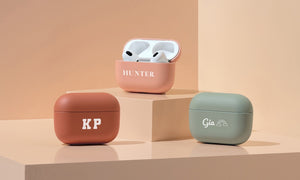 The AirPods wireless headphones are one of the most popular tech accessories on the market. The portable, noise cancelling pods appeal to commuters and office workers alike wanting a savvy listening device to use on the go. But what are the different models? Which AirPods is best for you?

Here's a breakdown on all the styles and features you need to know before buying your AirPods edition.


How many AirPod editions are there?
The AirPods 1st and 2nd Gen are your true OG edition, followed soon after by the AirPods Pro and now the latest version AirPods 3rd generation. The portable headphones combine convenience with advanced software to make them one of the most competitive wireless headphones available. The lightweight yet sturdy design features of the white charging cases make each edition easy to slip into your pocket or handbag when you're out and about. 


How to Choose the Right Model for You
Each Airpods model is designed in a glossy white aesthetic and contains a minimum of 4.5 hours of listening time with lightning charge capabilities.

If you're looking to purchase a pair of headphones for casual everyday use and are on a tighter budget, then the AirPods (1st or 2nd Generation) are your best bet. This style nails the basics for a wireless sound experience that pairs easily with all Bluetooth devices.

If you're after a headset that's perfect for travel or exercise and don't mind spending a little more for some extra longevity then consider investing in the AirPods Pro or brand new AirPods 3rd Gen. They are both sweat and water resistant, sit in a Magsafe charging case and contain spatial audio with dynamic head tracking features to cancel out distractions and really get you in the surround sound zone. 



After you've bought your new beats the most important part is not only protecting them but making them stylish. Cue, Beysis. In order to minimise the risk of losing the precious accessory, customised coverings are recommended for extra protection and even greater stylisation. Beysis offer cases for all three AirPods generations which include personalisation elements so you can rest assured your headphones won't be mistaken by anyone else or going walkabout anytime soon. 

Picking up a pair of AirPods is a great first step in supporting the future of wireless headphones. These little buds include many modern characteristics to create a revolutionary listening experience when you're on the move. 


AirPods is a trademark of Apple Inc., registered in the U.S. and other countries and regions.